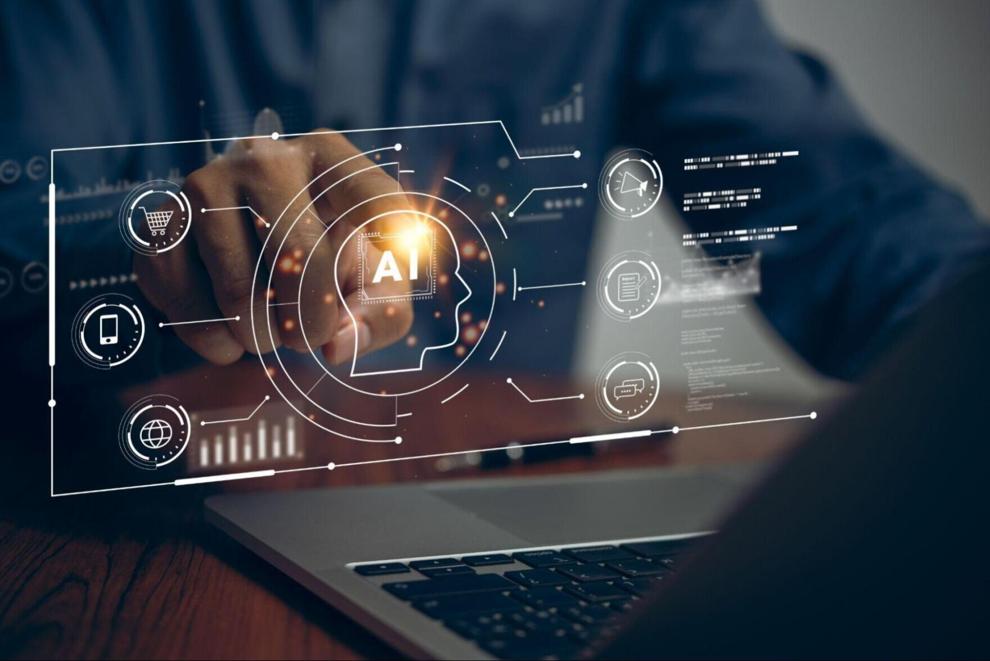 Artificial intelligence, or AI, has been a hot topic of discussion for years now. Whether it's people in the tech world praising this new technology or skeptics warning of the dangers ahead, everyone is talking about AI.
"In the digital age of marketing, AI has been proven to have remarkable outcomes that are only possible if we embrace technology," mentions Julia Kahlig-Garuba, CEO and Founder of Herb & Root.
The buzz surrounding AI has only increased with the recent release of programs like ChatGPT, Google Bard, and Microsoft's new Bing. As people start to get their hands on these AI programs, the interest will continue to grow. But no one is more excited about the release of AI programs than businesses looking to improve their marketing strategies.
What Is AI?
To put it simply, AI is a machine that can perform the cognitive functions that are typically associated with human minds. This includes actions such as perceiving, reasoning, and learning. More recently, generative AI programs have become more mainstream.
"When asking what AI is, it's far easier to explain what it is not. AI can play so many different roles, all of which can streamline and improve business operations," explains Dr. Michael Green, Chief Medical Officer of Winona.
Generative AI, in particular, has been of great use to businesses. Its ability to generate new content could be considered a marketing coup.
AI in Business
AI has been making waves in the tech world for years now. More recently, we've started to see businesses stepping boldly into the world of AI. Businesses from industries of all kinds are turning to AI programs to refine and improve their operations.
"As with any new tech, AI can be scary because it's unknown. That's okay, just don't hide from it. Start learning today," advises Kanishka Bhattacharya, Senior Director of Data Science and Analytics at Publicis Sapient. 
From cybersecurity to customer service, there's not much AI can't do. We've seen businesses acquire digital personal assistants and AI-driven inventory management systems. Today, however, we're going to take a look at AI's role in marketing.
Marketing and AI
AI enables businesses to improve their overall marketing strategies. The automation AI brings to the marketing process can significantly enhance the outcome of campaigns. Scheduling and sending emails or even predicting the campaign's performance are all possible with AI. 
"AI has led marketers away from making audience assumptions and has instead given them the tools to make research-driven predictions about the performance of their ads," points out Dominique Zimmermann, CEO and Head Designer of Bombshell Sportswear.
AI can also work to personalize the experience of marketers and consumers alike. Speed, efficiency, and personalization are a huge part of the customer experience that AI can improve.
Why You Need AI for Marketing
There are many different ways that AI can enhance your marketing strategies. Overall, marketing and AI are truly a match made in heaven. How marketers choose to use AI is unique to their goals and strategies, but there are some basic uses that are covered here. 
"AI illuminates the path to successful marketing. Sure, you could find that path on your own, but the time and effort would multiply significantly," explains Morgan Rogers, Director of Marketing at Luna Grill.
Here is how marketers use AI to build better customer relationships, make faster decisions, personalize their content, and automate posts.
Customer Relationships
Your relationship with your customers is paramount to your success as a business. Your reputation amongst your customers can either drive people away or bring more people in. One of the biggest issues businesses face with customer service is their responsiveness. 
"If you have a way to improve your relationship with your audience, by all means, do so. The impression you make on them means everything for the success of your business," suggests Jason Zhang, CTO of Tapin.GG, a company that specializes in Valorant boosting.
Customers expect fast and efficient responses, especially when filing a complaint. AI-powered systems like a chatbot are available 24/7 and are always ready to assist customers. Having an AI system in place for customer service can greatly improve your reputation amongst your target audience.
Decision Making
When it comes to business, there are a lot of important decisions that need to be made. Whether it's in HR, logistics, or marketing, decisions are made in every department daily. Many companies have been using AI to help them sift through data. 
"AI is so important because it lets us scale the internet. It lets even a small publisher or a regional app have access to the same intelligence, the same creativity as a super large behemoth, and that is a critical function to the way the internet works and the way society works," says Tom Kershaw, Chief Product and Technology Officer of Travelport.
Once you can quickly sift through mountains of data with AI, the decision-making process becomes much easier. And not only is it easier, but you will also be able to make big decisions with confidence.
Personalized Content
Marketing is all about learning your customer's preferences and figuring out how to cater to them. Unsurprisingly, there is an AI tool to help with that process. It starts with collecting customer data using an AI system. 
"AI helps create marketing campaigns rooted in personalization rather than segmentation," says Max Ade, CEO of Pickleheads, a company that offers insight into everything needed to play Pickleball, including the best pickleball paddles.
Customer data like demographics, purchase history, and physical location are all crucial information for marketers. The direction this data gives you can help to craft successful and targeted campaigns. And the best way to acquire the data in the first place is with AI.
Automation
Repetitive tasks are the bane of many people's workdays. Marketing, in particular, has many mundane, draining tasks to complete. The good news is that many of these tasks can be automated through AI. 
"We're in the age of automation. If you haven't started automating your business operations where you can, you are already falling behind the competition," mentions Seth Besse, CEO of Undivided.
AI allows you to automate tasks like emails, survey analysis, reporting, and scheduling posts. The time you free up by automating these tasks is much better spent on more creative endeavors anyway.
Content Generation
Depending on the nature of your business, your marketing team may be generating a lot of content on a daily basis. Not only is content generation time-consuming, it's also often error-prone. 
"Content generation is a necessary evil. You can't advertise without it, but it's a massive time and money funnel. One of the best tools businesses have to improve this process is AI," reiterates Asker A. Ahmed, Director of iProcess Global Research.
If you're a content-heavy company, AI can help cut down on the time it takes to formulate this content. For example, generative AI programs like ChatGPT are being used by many companies to help generate blog content or press releases.
Targeting Ads
You can have the best ad ever, but it won't matter if no one sees it. Ensuring your ads reach the right audience is a full-time job. If you'd like to ensure the right people are seeing your ads, you should employ the use of AI. 
"If you aren't running targeted ads, you are essentially yelling into a void. Successful marketers know how to get their ads in front of the right people," says Cody Candee, Founder and CEO of Bounce.
AI platforms can help you create targeted ads that engage your desired audience at the ideal time. You can also predict your ad's performance before you start to run it. Advertising can be expensive, so it's wise to use these tools to ensure your money is being well-spent.
Using AI to Cultivate Your Marketing Strategy
While many tech leaders have warned about the potential dangers of AI, in the business world, it's full steam ahead. The advancements businesses have to gain from using AI are immeasurable. This is true in many areas of business, but especially for marketing. 
"It's true that AI could one day be a detriment to society, but until we know for sure, it's best to enjoy the features it can provide us," concludes Datha Santomieri, Co-Founder and Vice President of Steadily, a company that specializes in landlord insurance.
If you are looking to improve or refine your marketing strategies and ease up the workload of your marketing team, it's time to put the AI to work. You'll be grateful you did when it starts to reflect in your efficiency and profits.
Lee Enterprises newsroom and editorial were not involved in the creation of this content.